Mac Books and Podcasting Close Latino Digital Divide
Caught this article on my Google Reader account, and it hit home with me. I've been working diligently over the past two years as an advisor for my school's Technology Student Association (TSA) chapter to get more Latino students interested in technology careers.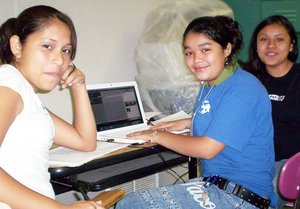 I love what the Chester County Intermediate Unit's Migrant Education Program has done here. The picture is getting brighter here in Haines City, as many more of our Latino students coming into Boone Middle School are children of parents who have decided to remain here in the city rather than continue their migrant work. These students are becoming more digitally aware through computer usage at home and through "take home PC" programs offered by our school. However, we still have students who miss a great deal of school due to having to relocate with their migrant parents. Programs like the one at CCIU are surely worth replicating at schools like mine, and I am now in the process of trying to secure grant money for a one to one laptop program that will allow students to sign out laptops for use at home as well as in the classroom.
Technorati Tags: digital divide, migrant students
4 Comments so far
Leave a comment
Jenny 11.28.07 @ 8:21 pm

It is amazing to me that we are working on a similiar problem and solution in the town I live in Southwest Michigan. We have a very large hispanic migrant population. Also this article was very interesting to me because my Grandma happens to live in Haines City Fl. My only concern with a program of checking out laptops is the insurance policy, what if something happens to them? The families I would be dealing with wouldn't have money to fix them.

Kevin Sandridge 11.29.07 @ 7:47 am

Jenny, thanks for your note! I share your concern about insurance, as the families we service would be in the same boat should something happen to their children's laptops. Perhaps there is a way to place all of the machines under a single umbrella policy of some sort. Definitely a challenge to look after.
Leave a comment
Line and paragraph breaks automatic, e-mail address never displayed, HTML allowed:
<a href="" title=""> <abbr title=""> <acronym title=""> <b> <blockquote cite=""> <cite> <code> <del datetime=""> <em> <i> <q cite=""> <strike> <strong>